A breathtaking tour over the southern evergreen slopes  of Mount Meru!
Upon arrival at Tengeru Cultural Centre, you will enjoy a refreshing cup of herbal tea, while having a briefing about the hike by your guide.
The hike starts at approx. 09.00 am. You will follow the tropical trails under the banana canopy, while be listening to some thrilling legendary stories about Meru people from your guide and be crossing some beautiful villages where you will receive a very warm and friendly welcome from the villagers.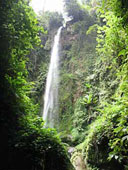 While walking up the mountain, you will explore the beauty of the forest's flora and fauna – rich birdlife, beautiful butterflies, monkeys, forest antelopes, and a number of medicinal plants – enjoying at the same time spectacular views of the lower areas of Arusha.
After about 3 hours you will stop for lunch in a relaxing environment full of mountainous flowers before you continue for almost another hour to your final destination, the magnificent gigantic Meru Fall at the altitude of 2200 metres.
After taking a few moments of relaxation at the fall, you will start heading back to the centre.
Hike duration: approx. 7 hours (4 ascending and 3 descending).
Destination covered in Km: 18 km to and fro
Overall tour duration: 8 hours
Difficulty rating: Although the hike up to the waterfall is not of a high difficulty rate, you still need to be fit and in a good physical condition. Good trekking high boots are advisable but normal rubbers are also suitable.
Rates:
Mount Meru Forest hike including lunch: $65.00 per person for one person
Mount Meru Forest hike including lunch: $60.00 per person for more than two persons
Transportation fee to/from Tengeru Cultural centre: approx. $20.00 per way, i.e $40.00 both ways.