Half Day Coffee Cultural Tour
This wonderful tour not only offers a deep understanding of the stages of coffee production from A to Z, but is also of great cultural value, as it shows the deep connection of Meru people with coffee farming

The tour itinerary includes:
Arrival at Tengeru Cultural Centre.
Welcome with Lemongrass Tea (locally grown) and Introduction.
Walk to a small coffee plantation, about 2 km up a dirt road from Tengeru Cultural Center – an easy trekking of approx. 30-40 minutes.
Coffee production demonstration
Return to the centre, passing through local Meru villages
Biogas production demonstration at the centre
Participate in coffee roasting, pounding, sifting and finally brewing & tasting.
Lunch (optional).
Farewell dance.
Rates:
Coffee Cultural Tour excluding lunch (duration approx. 4 hours): $ 35.00  per person
Coffee Cultural Tour including lunch (duration approx. 5 hours): $ 40.00 per person

OPTIONAL – Mangalia Waterfalls hike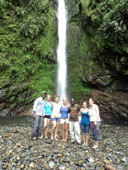 Combine your Coffee Cultural Tour with a hike to the Mangalia Waterfalls on Mount Meru slopes.
We advise you to start your tour at 09:00 am in order to have a pleasant hike. Your hike to the Waterfalls will take place before your visit to the coffee plantation. The rest of the itinerary remains as above.
Duration including lunch time: from 09.00 am to 16:00 pm
Rates:
Coffee Cultural Tour & Mangalia Waterfalls excluding lunch: $ 40.00 per person
Coffee Cultural Tour & Mangalia Waterfalls including lunch:  $ 45.00 per person